2005 – Singing Tiger Paraffin Stove
appropriate technology / energy / cooking / paraffin
The Singing Tiger paraffin stove designed by Phil Oosthuizen and Angus Donald Campbell was awarded as the winner in the Paraffin Safety Association of Southern Africa's (PSASA) National Safe Paraffin Stove Design Competition 2005. The main aim of the competition was to create awareness to improve the safety in paraffin stoves in Southern Africa and the design feature that was most commended in the Singing Tiger design was its separation of the burner and cooking tripod. This separation meant that while someone was stirring food there was less of a chance that the stove could be knocked over and cause a fire.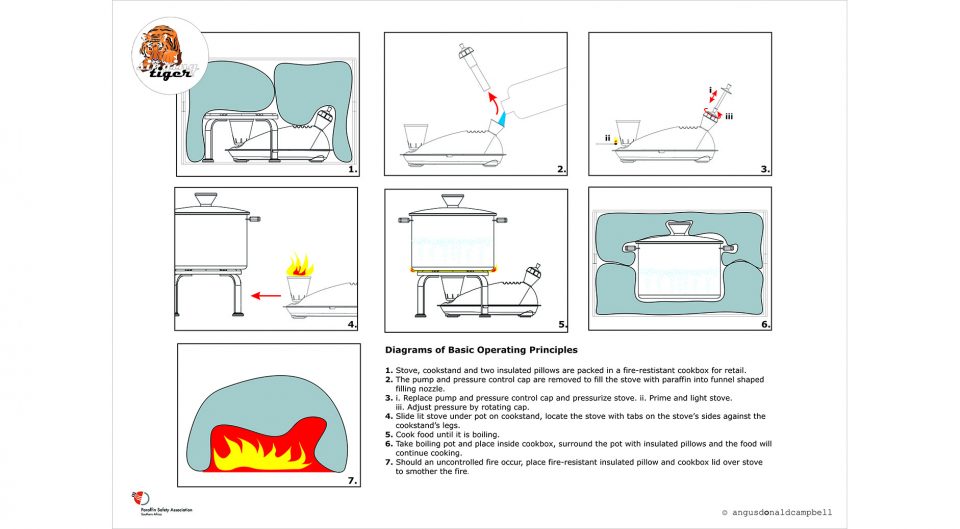 Basic Operating Principles:
1. Stove, cookstand and two insulated pillows are packed in a fire-resistant cookbox for retail.
2. The pump and pressure control cap are removed to fill the stove with paraffin into the funnel shaped filling nozzle.
3. i. Replace pump and pressure control cap and pressurise stove. ii. Prime and light stove. iii. Adjust pressure by rotating cap.
4. Slide lit stove under pot on cookstand, locate the stove using tabs on the stove's side against the cookstand legs.
5. Cook food until it is boiling.
6. Take boiling pot and place inside cookbox, surround the pot with insulated pillows and the food will continue cooking.
7. Should an uncontrolled fire occur, place fire-resistant insulated pillow and cookbox lid over stove to smother the fire.
Outcome:
Mawson, N. 2005. Safer Paraffin Stove Designs Win Recognition. Creamer Media's Engineering News.